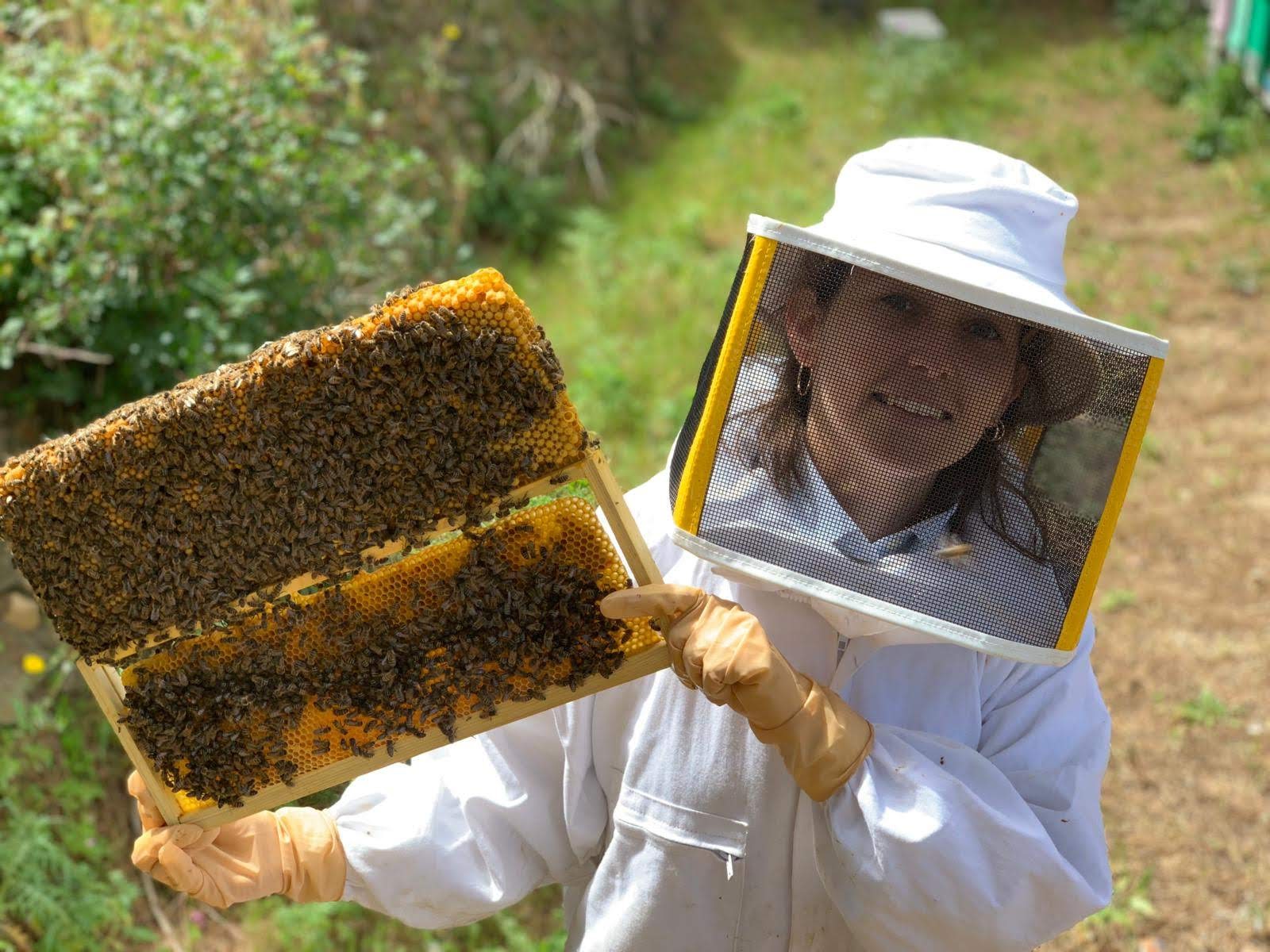 Are you interested in learning how to start beekeeping and producing your own honey? The Ontario Beekeeping Association (OBA) has a list of
Five Questions To Ask Yourself
to see if this is the right activity for you! 
Here are 10 steps to help you get a successful start to your beekeeping journey.
1. Join a local beekeepers association 
The very best way to start beekeeping is to join a
local beekeeping association
. Most associations are made up of new and experienced beekeepers, and they meet regularly to share information. Most associations have beekeeping books, magazines and videos for loan, and they bring in expert speakers. You can speak with an experienced beekeeper and ask for a visit to his/her beeyard and offer to help out to get some hands-on experience. 

2. Learn all you can! 
It's become more common for Ontario bee suppliers to only sell bees to people who have had some training. Sign up for one of the
Ontario Beekeeper's Association (OBA) workshops
or look for a local course in your area. Then, continue your education with a few good beekeeping books and magazines, learn from the OBA's
Tech-Transfer Program
, and explore the Internet. 
Be aware that although there are a lot of good resources online, there is also a lot of bumpf (a technical term for really bad beekeeping advice). It's best to choose a few recommended experts that you can relate to and listen to them.
3. Start small 
It's a good idea to start with two or three hives. This will give you an idea of what it takes to keep bees, if your location is suitable, and whether you enjoy it or not. Two or more hives are also helpful for comparing hives and for equalizing winter stores and population for successful over-wintering.
4. Make a plan 
When you start beekeeping, there are a number of practical considerations: 
How much does it cost to start up beekeeping?

Where can I buy bees in Ontario?

What kind of bees are best in Grey & Bruce?

What kind of equipment do I need to start beekeeping?

How will I manage my hives?

What kind of records will I keep?
When it comes to the honey production side, it doesn't have to be fancy, but you'll feel a lot more confident if you make a plan ahead of time.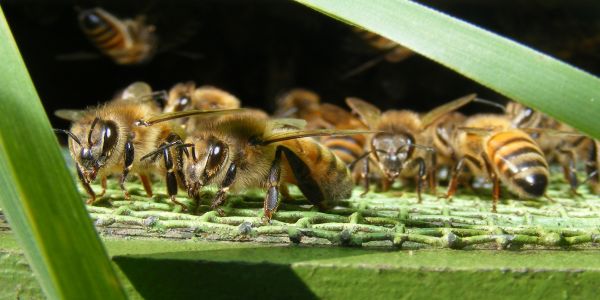 5. Consider your equipment
There are a lot of options in beekeeping equipment, especially in hive components. You'll want to think about your physical capacity and the pros and cons of various options. It's a pretty significant financial investment, and you'll be living with your choices for a long time. 
The most common hive bodies used are "standard" sized Langstroth equipment, but beekeepers are also quite often using medium-sized honey boxes, and some are using 8-frame components, although they are harder to source in Canada. There is a growing interest in topbar hives as well. Check out Ontario's
local suppliers
for 10-frame hives. If you are interested in 8-frame equipment, look into Brushy Mountain and Dadant in the U.S. 
Invest in good-quality smoker and hive tools because you want them to last.
6. Review local by-laws and register your hives 
In Ontario, you are required to register your hives, and there are some important
beekeeping regulations
you need to know. When you register your hives, it gives the province important statistical data, and they will send you updates on recommended practices. Registration also connects you to the
provincial inspectors
, who are a very supportive source of expert information and advice. You can also ask the province to notify you if there is any significant pesticide spraying in your area.
7. Protect yourself 
Here are a few ways to keep yourself safe when working with bees:
Make sure you, your family members, and close neighbours are not allergic to bee stings. Keep an Epi-pen on-site.

You may want to wear snug-fitting gloves until you are comfortable with bees.

It's helpful to have a few clothing options on hand. You can get away with only a veil for light beekeeping (external inspections, feeding, etc.), but you'll want a suit or jacket for full inspections. If you can afford it, look for a thick mesh suit because you won't get stung, and they are cooler than the cotton ones. Rubber boots are good as well, especially if you have poison ivy in your beeyard.
Another important consideration is liability insurance. Even if you are just giving away your honey, your home insurance won't likely cover you. Check with your insurer about your coverage. You may want to take advantage of
OBA's affordable group insurance
to protect your personal assets.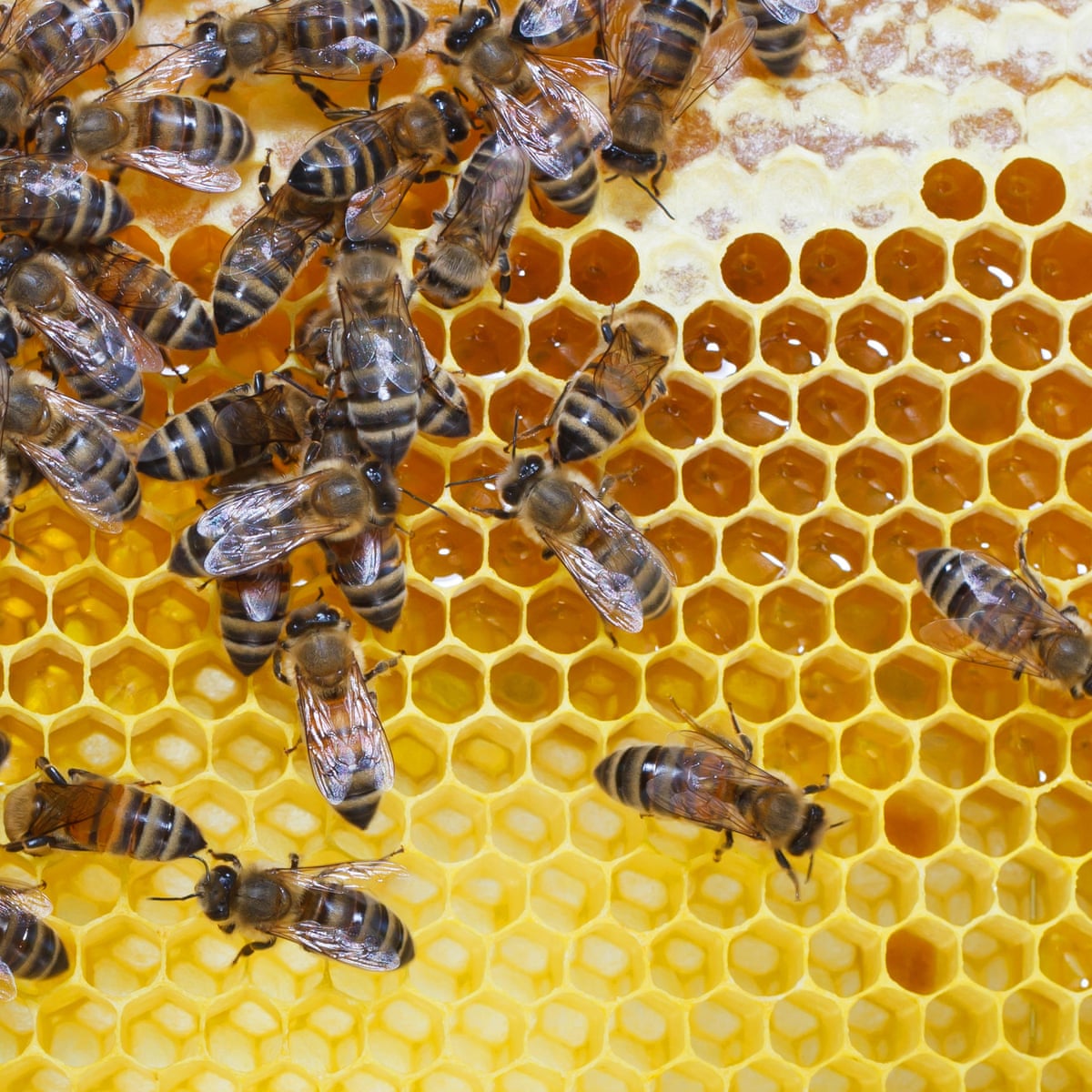 8. Watch and learn 
While courses, books, and discussions with other beekeepers are all critical in building expertise and confidence, simply paying attention to what is going on in your hives is equally important. Spend time in your beeyard. You can learn a lot by watching, listening and smelling. Take your time when doing inspections, making comparisons and watching for changes. 
9. Keep notes 
As you pay close attention to your bees, keep notes on what you are seeing and doing. Some beekeepers keep a journal to track what's in bloom, the weather conditions, actions they took, what they learned, mistakes they made, and questions they have. Some use a calendar to remind them to make timely interventions. 
There are also some excellent smartphone apps that you can take into the beeyard that provide a framework for what to look for during inspections.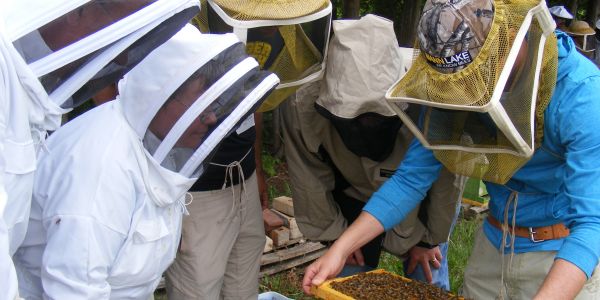 10. Enjoy the process!
Take the time to have fun with beekeeping and give yourself a break when you make mistakes. Beekeeping is one of the most enjoyable and interesting activities, but even seasoned beekeepers will tell you that it's forever a work-in-progress. Do your best, keep learning, keep going, and have fun! Good luck!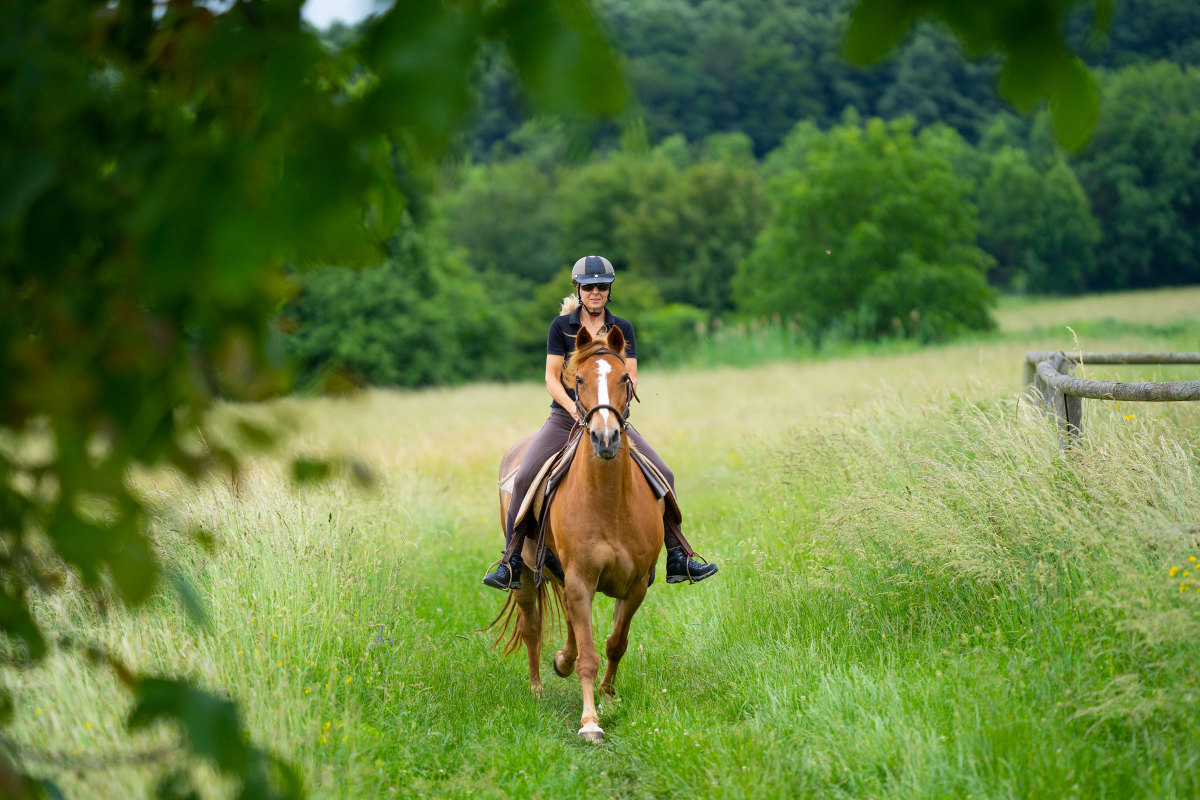 Each spring when the warm weather returns and horse enthusiasts get excited about riding the trails again, many wind up getting dumped on their first ride of the season.
When your horse is well prepared, trail rides go much better.
Are you a new rider and wondering how to get started with trail riding?
Here are my 10 favourite tips to help you and your horse get ready this year.
Re-establish the riding routine
If you've been off your horse for weeks or months, a trail ride is not the best way to return to the saddle. Horses learn and remember well, but they get rusty just like us when we haven't done something in a while. 
Establish a regular riding routine to re-train your horse's responses and respectfulness. Start getting your horse accustomed to riding by reintroducing things slowly. When you're on the trail, additional distractions like other horses will test your control of your mount. 
Deal with any horse issues
If you run into specific problems in your schooling rides, deal with them in the arena or close to home before you go out on a trail. Is your horse being resistant or bullying you? Take steps to correct their behaviour and don't make excuses for them.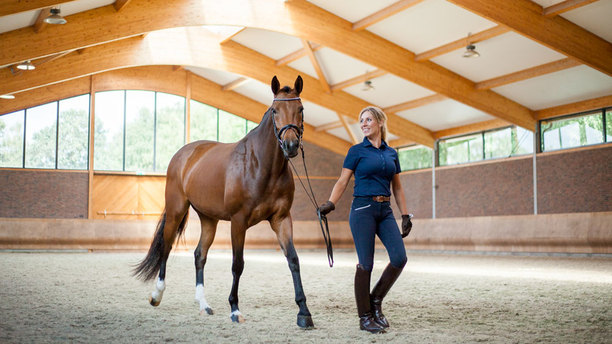 Practise easy trails
Explore your own area first with a trusted companion or two. Let your horse get used to being next to, in front, and behind another horse. Then practise being a few horse-lengths behind, which is a tough one. Practise crossing water, stepping over logs, and going up and down hills. Work out any problems in a controlled environment before you attempt new trails your horse has never seen before.
Be realistic about your horse's abilities
Is your horse ready for the type of ride you want to do? Maybe he's not and he would benefit from more training in the arena and on practice rides.
Gear up with proper equipment
You might want to consider special gear to help your ride go smoother:
A breast collar and a back cinch can prevent saddle slippage that might alarm your horse or unseat you

A well-adjusted running martingale will help keep your reins in place during a bumpy part of a ride 

A mecate-rein setup or a longe line tucked into your saddlebag can help your horse relax 
Pick good riding partners
Ride only with friends who know proper trail manners and can control their horses.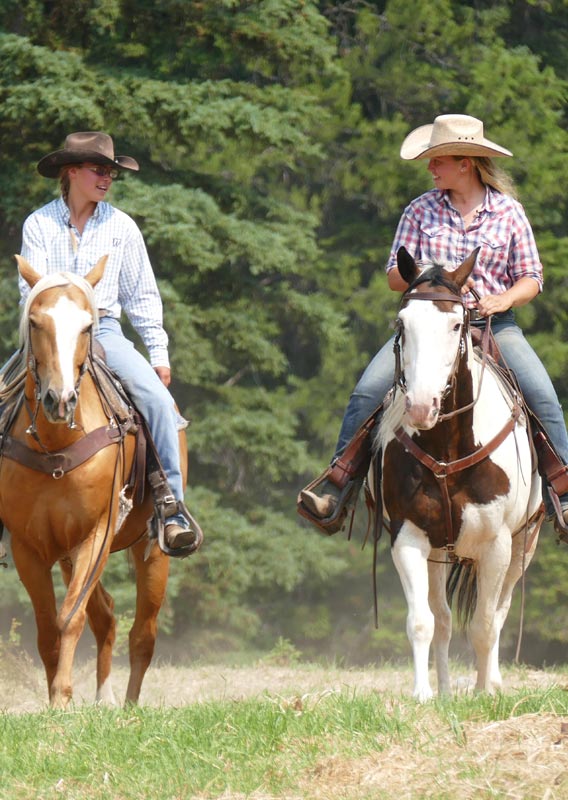 Ride in good weather
A calm, sunny day is the ideal weather for a trail ride. Riding in windy weather can make normally calm, well-mannered horses flighty. Why is this? Wind makes it hard for prey animals (like horses) to tell where scents are coming from. This causes them to feel extra vulnerable and jittery.
Prep right before the ride
Right before you head out on a trail ride, work your horse in a round pen and put them through some groundwork exercises. The
"longeing for respect" technique
is the ideal method here. You can also ride him in an arena to work any extra energy out and get him paying attention to you.
Stay connected with your horse
Good trail riding is not just taking a relaxing ride. You want to keep your horse's attention focused on you by continually asking them for small adjustments: speed up a bit here, collect yourself there, sidepass to avoid a rock. If you can keep your horse connected to you at all times, you'll be able to avoid most problems before they start.
Stay relaxed but in control 
You want to stay alert, but also loose and relaxed. If you hang on the reins very defensively, it'll just make your horse tense. Sit deep in the saddle, shrug your shoulders back, relax your muscles, and keep your breathing regular. If you need to deal with any nervousness you feel at any point, take a few deep breaths, hum, or talk reassuringly to yourself and your horse.
Happy trails!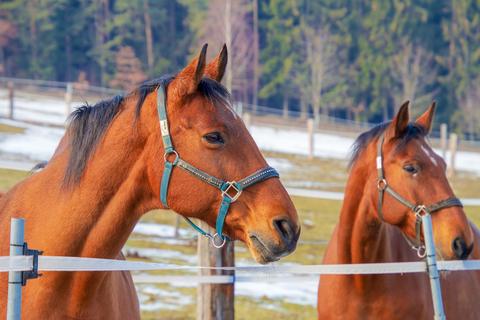 One of my great passions in life is horses. For those of us who love these animals and are privileged to take care of them, it's important to do our best to keep them healthy and happy, both mentally and physically. 
Are you wondering how to best care for your horse? Here are some of my favourite horse care tips.
Feed your horse well
Fresh pasture is the best option. If it's not available, hay is the next best thing. These are the most important sources of nutrition for horses. The best hay is fine-stemmed, soft, green and leafy. Try to avoid hay that is excessively sun-bleached or smells mouldy, musty, or dusty. 
Keep a salt lick or mineral block in the paddock.
Get supplementary feed if necessary
Horses that work on a regular basis may need supplementary feed if they are losing condition. If that's the case, consult your veterinarian for suitable supplementary feeds. It's important that horses get enough Omega-3 to retain a shiny coat.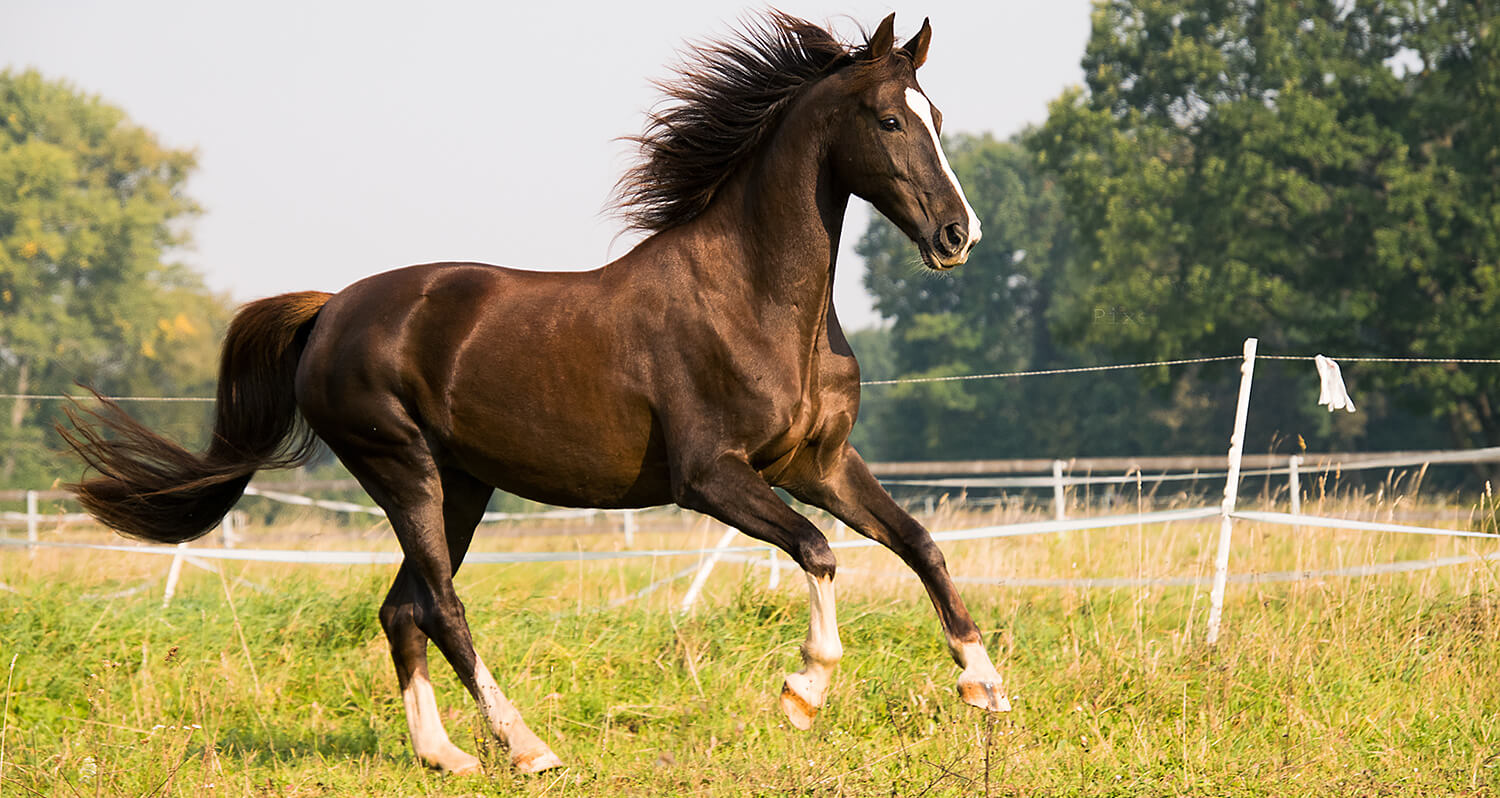 Make sure your horse has enough water
It's crucial to always have fresh, clean water available because dehydration can contribute to poor health and can even be deadly. The water should be clean because unhygienic water can hold bacteria or viruses that can make horses sick. Remember to clean your troughs and waterers frequently.
One trick for keeping water clean is adding some apple vinegar.
Give your horse enough exercise
Daily exercise is essential for your horse's physical and mental health. A daily workout increases stamina and endurance, keeps the heart and lungs working strong, and maintains proper bone and hoof development. A very basic exercise routine includes warming up, stretching, a workout exercise, and a cool-down.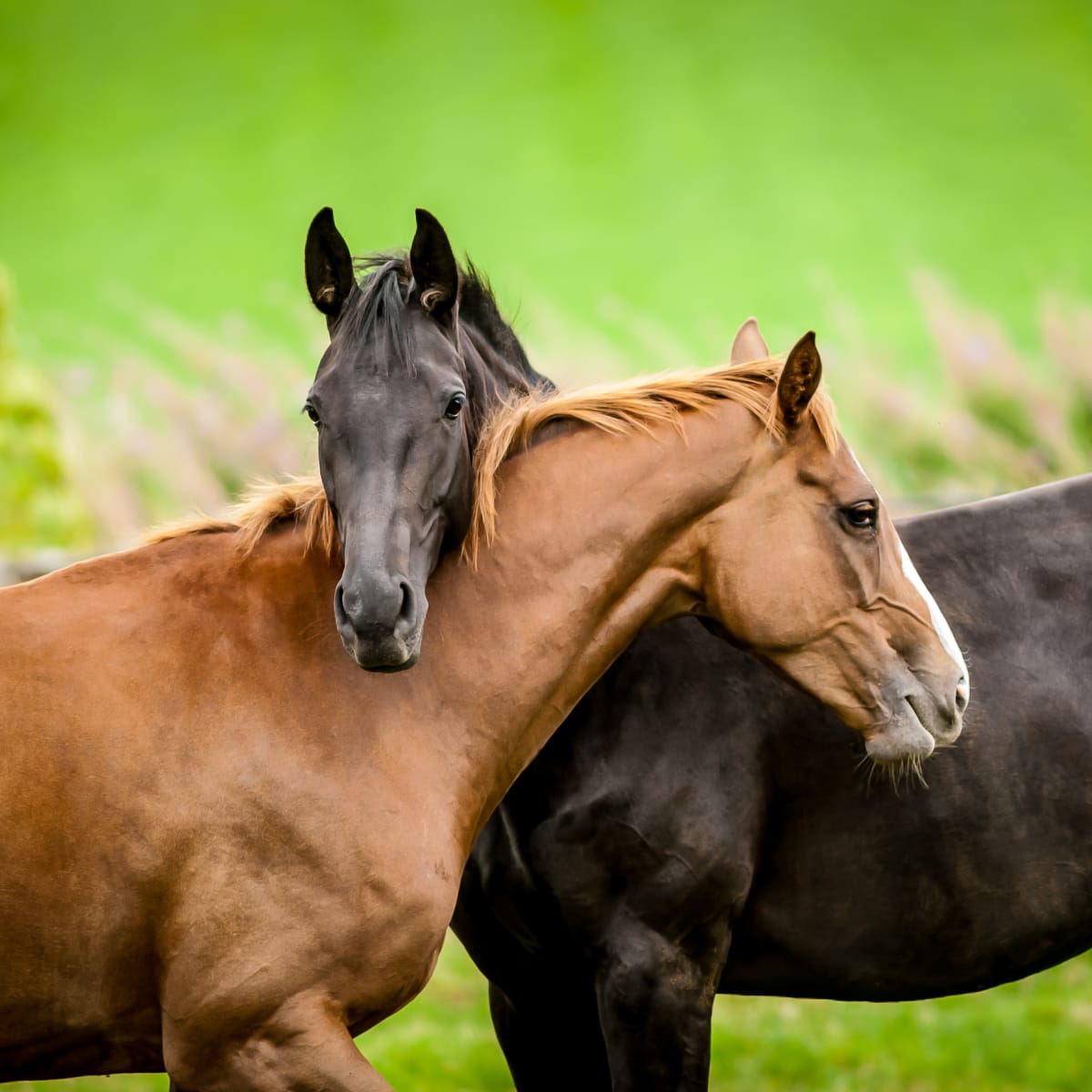 Give your horse company
Not only do we want to care for our horse's physical health, but we also want to keep them healthy mentally. Giving a horse some animal companions is the best thing you can do for their mental health. Because they are herd animals, they need the companionship of another horse, donkey, mule or pony, or even a sheep or goat. You can keep the animals together in the same paddock or in a neighbouring paddock.
If you keep a horse with older and experienced horses, it may help her overcome her fears and problems when hacking.
Groom your horse every day
Grooming is a very important part of horse care, but it's much more than just brushing a horse. It requires knowledge, attention, and care. Spending money on good-quality grooming equipment will help your horse maintain a healthy coat.
A quick grooming every day helps increase your horse's blood circulation, and it gives you the chance to check your horse's body, especially the parts that will come into contact with tack.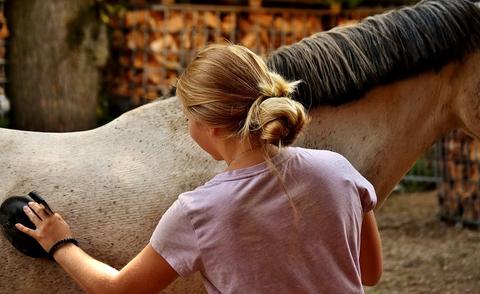 Give your horse enough room in the stable
Because horses spend some of their time inside stalls, make sure your barns, sheds, and stalls are designed well. Check that all your stalls, fences, windows, doors, walls and ceilings are free of any dangers to your horse. 
You also want to give your horse enough room to be comfortable. The Canadian Agri-Food Research Council recommends a loose box should be between 3 m x 3 m and 3.6 m x 3.6 m for an average size horse. Horses appreciate the extra room to move around, so give them as much space as you can.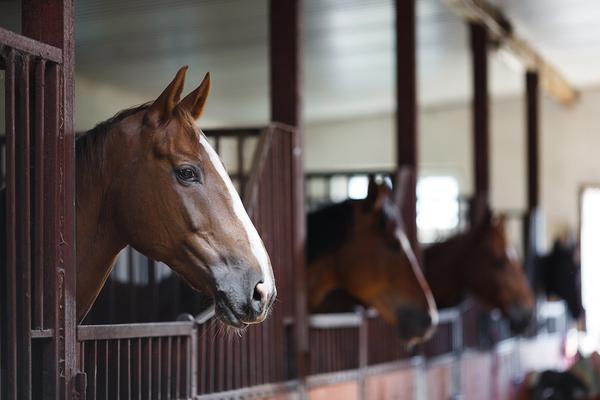 Keep the paddock in good shape
Whether our horses are inside or outside, we want to keep the surroundings free from hazards like rusty farm machinery or dangerous objects. In a paddock, we should watch our fences for holes or loose wires and repair them regularly to prevent horses from getting injured and escaping.
Learn to ride well
If you ride your horse, learn to ride properly by attending a riding club or taking regular riding lessons. Your priority should be to take precautions for a safe ride for both you and your horse. After each outing, spend some time caring and rewarding your horse.
Invest in the best equipment you can afford
Buying the proper riding equipment keeps you safe and prevents harm to your horse. When you are looking at various equestrian clothes and gear, consider quality and durability. It's always best to buy the highest quality equipment you can afford within your budget.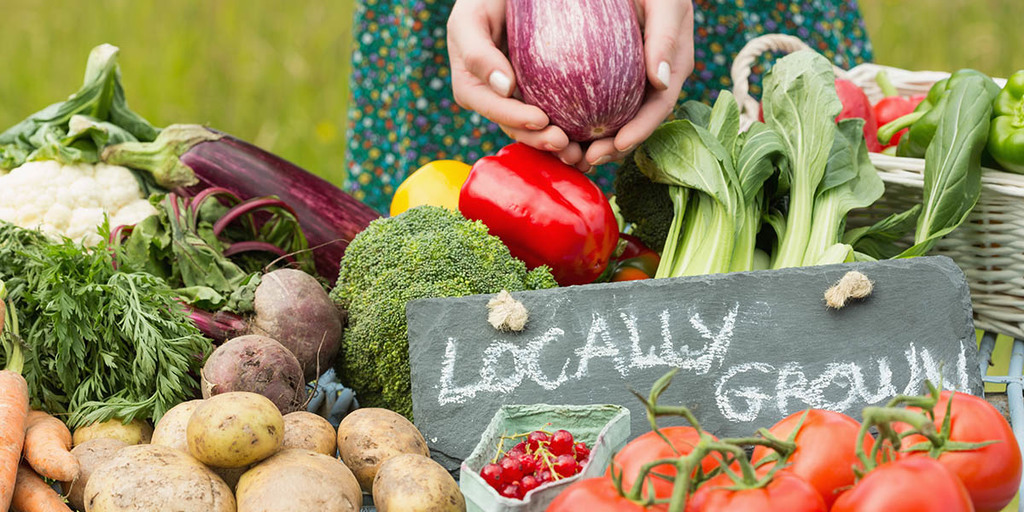 Are you interested in starting a market garden in Grey or Bruce County? Market gardening is very common in our region and we'd love to have you join us! Here is some information to help you get started.
What can I grow in Grey/Bruce?
Our growing season here in Grey or Bruce counties typically begins mid-May and ends in late October. You should be able to grow most of your favourite fruits and veggies here, especially if you're growing perennial crops.
Market gardeners in the area are growing lots of different vegetables, including lettuce/greens, peas, spinach, radish, beans, beets, carrots, green onions, potatoes, swiss chard, zucchini, pak choy, summer squash, cucumbers, dill, tomatoes, basil, sweet corn, peppers, broccoli, cauliflower, cabbage, parsnips, onions, leek, turnips, winter squash, kale, brussel sprouts, pumpkins, and melons.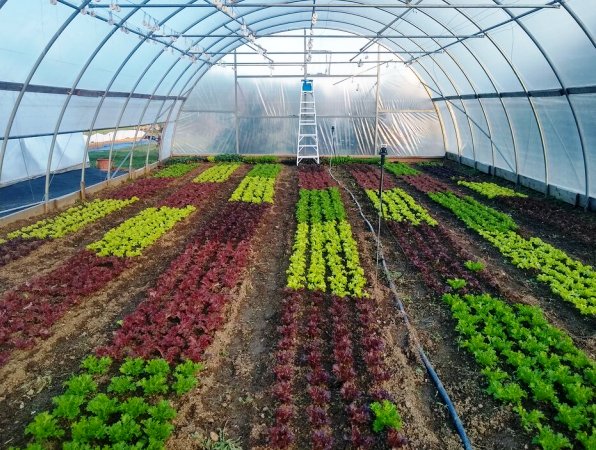 Where can I sell my food in Grey/Bruce?
From your farmgate — Many farms sell food directly from their farms

From your website —  Some farms allow customers to order and pay online

Through a CSA —  You can sell Community Supported Agriculture shares

Eat Local Grey Bruce

—

 

This is an online farmer's market selling and delivering directly to the residents of Grey, Bruce, and part of Simcoe County

Owen Sound Farmers' Market

—  Open Saturdays 8 a.m. to 12 p.m. in downtown Owen Sound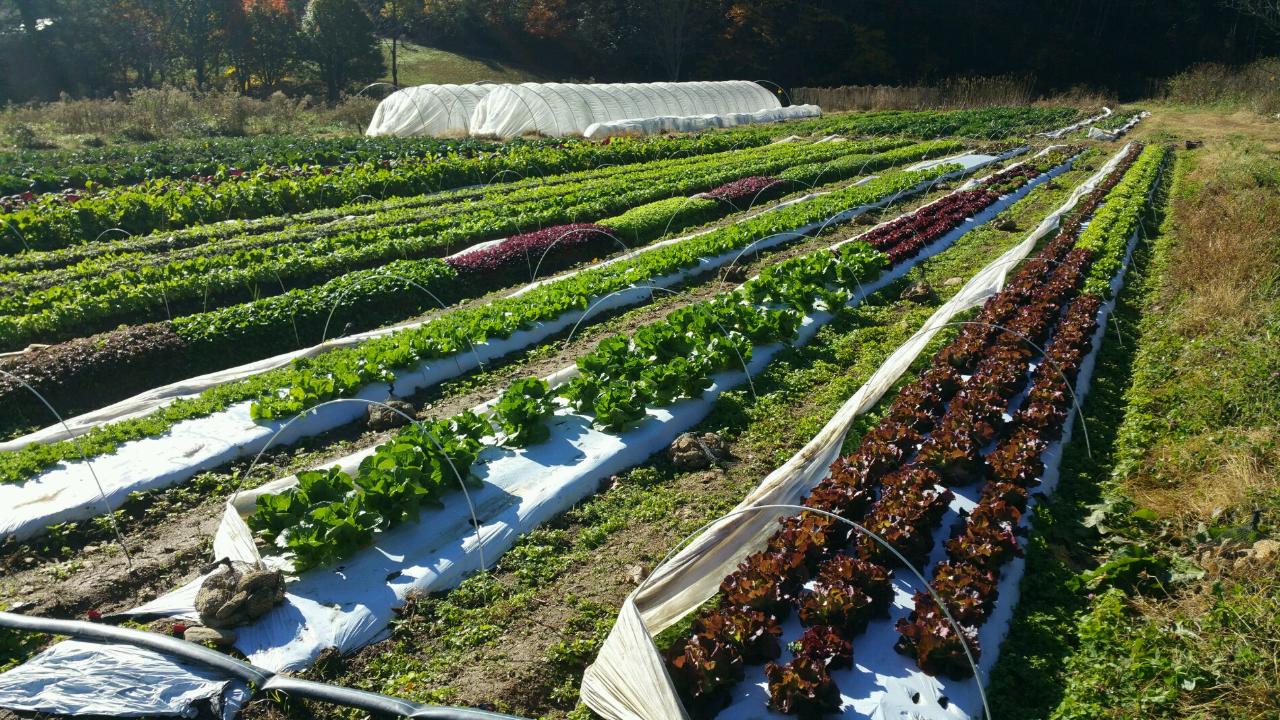 What is Community Supported Agriculture (CSA)?
Community Supported Agriculture is a way for customers to support local farmers by buying a share of the harvest at the beginning of the growing season. This helps farmers plan for the growing season and gives customers a weekly supply of vegetables. 
Where can I find other market gardens in Grey/Bruce?
Harvest Moon Farm
(part of Good Family Farms, south of Meaford) is another market garden in Grey County, and you can find more market garden listings on
Grey County's website
.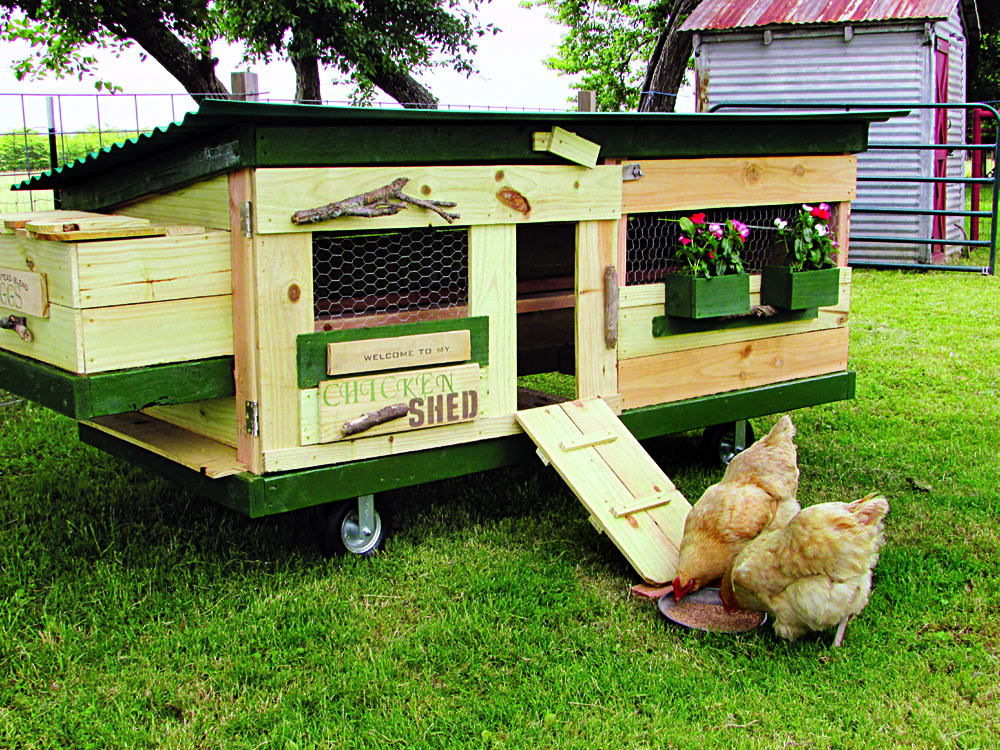 Are you a homesteader, farmer, or hobby farmer who's raising chickens?
The chicken tractor is a must-have. It's a cheap agricultural upgrade that is beneficial to both you and your flock. You can fertilize your soil, control slug and insect pests, provide access to food at all times to your chickens, keep them safe from predators, and avoid damage to the rest of your yard or your neighbours' property. 
Every day or two, you move your chicken tractor across the field to constantly change the grass and vegetation your birds eat. They leaving nutrient-rich manure behind as they go, fertilizing your field.
There are lots of chicken tractor plans available online for small or big flocks built with anything from recycled materials to new wood and painted with pretty colours or left in their natural condition.
Not sure how where to start with a chicken tractor? Here are few tips to help you choose a design when building your own.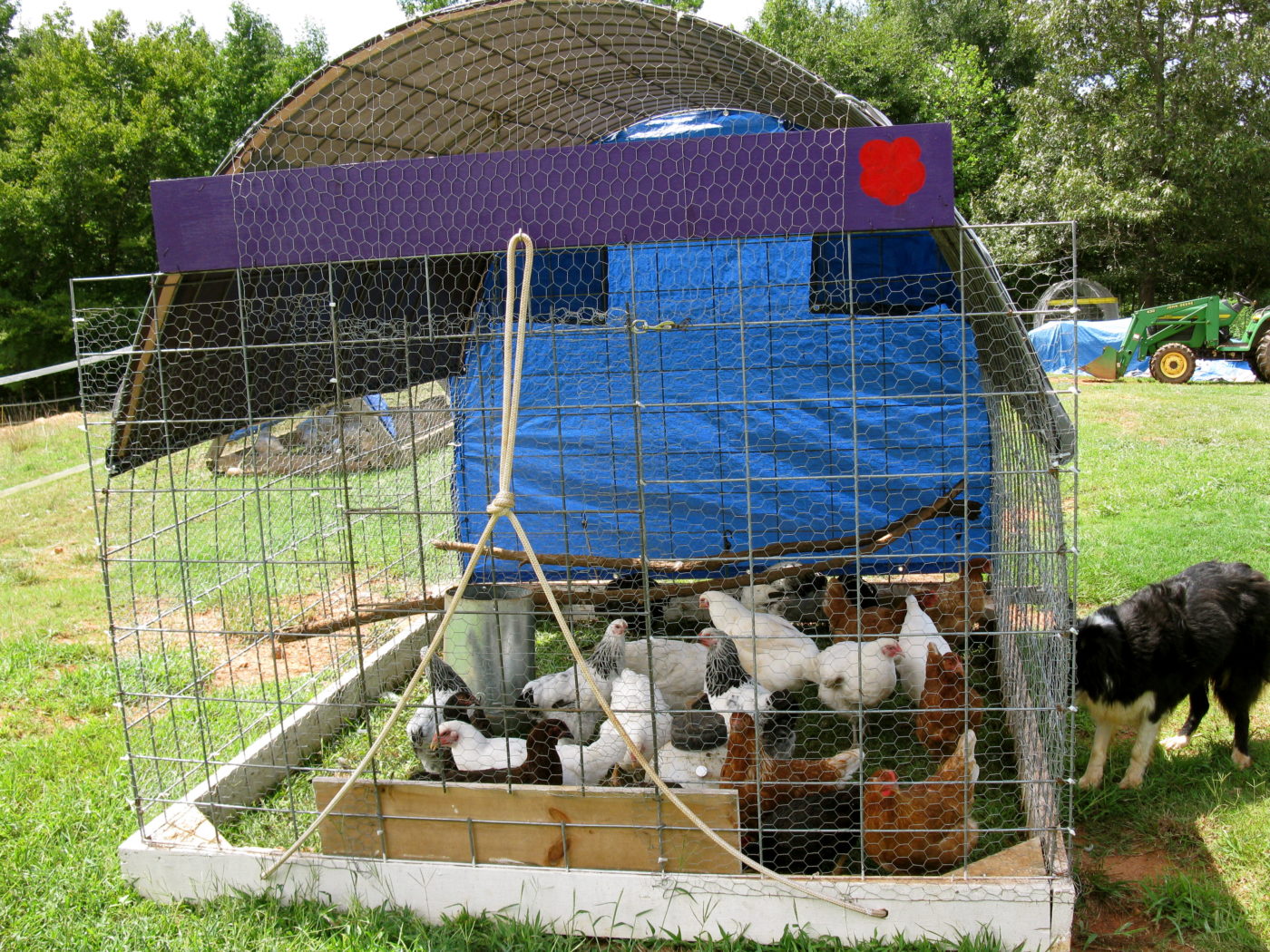 What are the basic components of a chicken tractor?
The basic structure of a chicken tractor consists of the coop and the run. The coop can be a square box that has sufficient space to house your hens. Large fowl need 4 sq. ft./bird and bantams 2 sq. ft./bird. You could crowd more birds in, but that would encourage anti-social behaviours that will be hard to break and may lead to flock injuries.
If you live in an area with very hot summers, make sure your design has enough shade available in the coop, along with ventilation.
How should I make the floor of the coop?
In many chicken tractor plans, the floor of the coop is the ground itself. Chickens poop mostly at night, and it can be deposited straight onto the ground. However, some people prefer a solid base to the coop you can lock the hens up at night and keep them safe from a bear or raccoon. 
When moving an open-bottom tractor, the hens need to get used to moving with the coop and it usually only takes a couple of moves before they get the hang of it. With a fully enclosed coop, you can pick everything up and move it easily.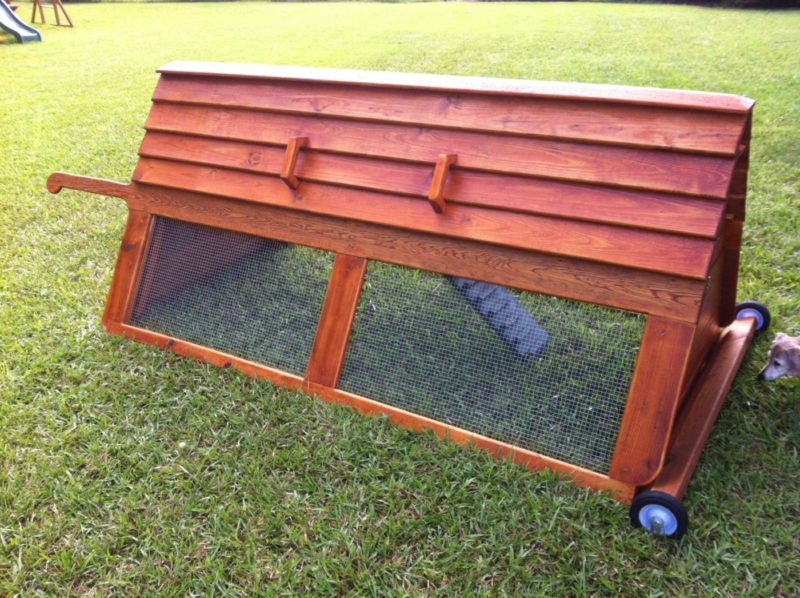 How should I make the run/pen area?
Your run needs to be large enough to accommodate large fowl with at least 8 sq. ft./bird and bantams 4 sq. ft./bird, but more room is always better. The run also needs to be tall enough so you can hang out the feeder and drinker where the hens can't poop in them (on the ground).
What size should I make the chicken tractor?
Plan the size of your chicken tractor based on the number of hens and how much space they need (as described above). For example, 4 large hens will need 4 sq. ft of space each in the coop, so you will need 16 sq. ft of floor space. That could be designed as a square box that is 4 ft. x 4 ft.
How easy should it be to move the chicken tractor?
Tractors should to be sturdy and well built, which usually means that are quite heavy to move. A 4 x 4 coop box and a run may not sound large, but if you are pulling or pushing it, it will be quite heavy, especially up or down slopes.
Almost all tractor plans have wheels or can be hitched up to a small tractor or a utility vehicle. In practice, these tractors will move similar to a wheelbarrow, a rickshaw, or with real or mechanical horsepower.
If you prefer a more lightweight design, you will need to have some way to anchor it into place. Wind storms and large predators may be able to flip or dismantle a lightweight tractor made from materials like PVC pipe and chicken wire.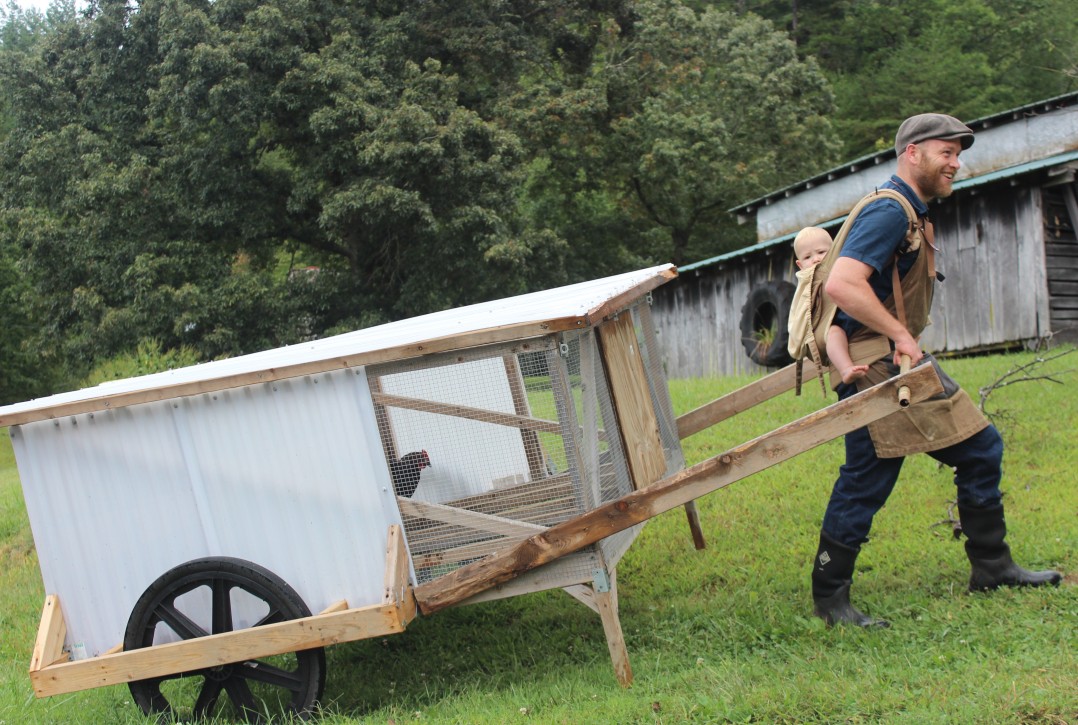 How easy should it be to clean the chicken tractor?
Just like a regular coop, the coop in a chicken tractor will need to be cleaned. The access area needs to be large enough for you to work in. Some coop designs have a "lift" side that is helpful for cleaning and egg removal.
How do I make a chicken tractor secure?
The tractor should keep your flock safe. The building itself should be made from durable materials that can deal with the sun, wind, and rain. If it's made from wood, it should be painted for protection.
If you lock your coop, it should be designed to keep out a 3-year-old child (which would also keep out a raccoon).
Any windows should be covered with wire mesh or hardware cloth, not chicken wire. Chicken wire is designed to keep chickens in, but it will not keep predators out. The run should also be covered with hardware mesh.