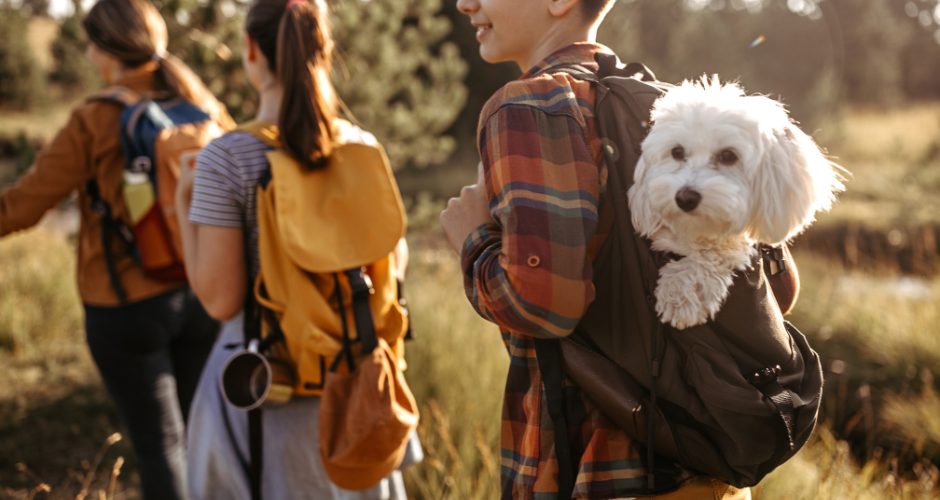 As a real estate agent, I know how important it is to create a welcoming and inviting environment for potential buyers when showing a home. However, when pets are involved, the situation can become more complicated. While pets are beloved members of many families, not all potential buyers feel the same way. In this blog post, we'll explore what you can do with pets when showing your home to help create a successful home sale.
Remove all pet toys and items: Before showings, remove all pet toys, beds, and other items that make your home look cluttered. This will help prospective buyers focus on the features of your home and not your pet's belongings.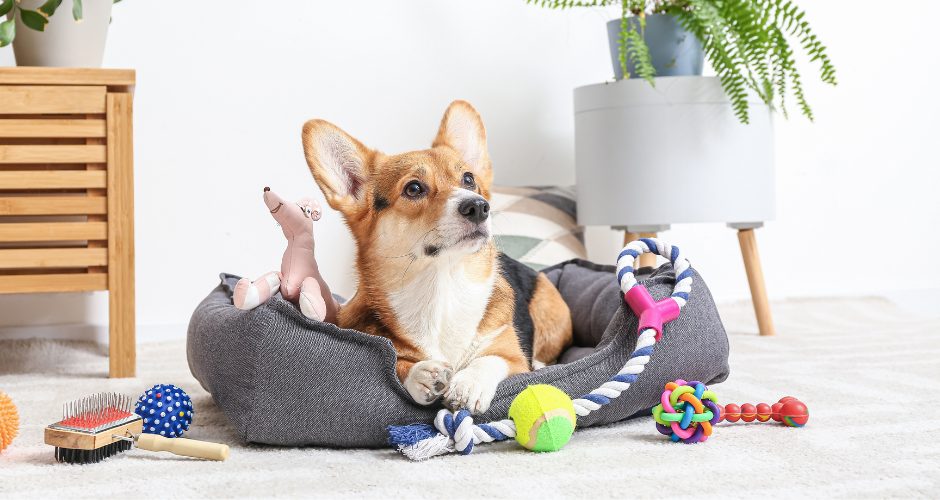 Clean up pet hair and odour: Vacuum or sweep to remove any pet hair, and use an odor neutralizer to eliminate any pet odor. This will ensure that your home smells fresh and clean during showings.
Prepare your pets for showings: Consider taking them for a walk, to a friend's house, or even to a pet daycare facility. This will not only eliminate the risk of potential buyers being scared or allergic to your pets, but it will also help keep your pets stress-free. If it's not possible to remove your pet from the home during showings, make sure you prepare them ahead of time. For example, give them a favourite toy or treat to keep them occupied and calm and crating your pet in a designated area of the house, so they aren't roaming around and creating distractions.
Highlight pet-friendly features: If your home is pet-friendly, make sure prospective buyers know. Highlight any special features such as a fenced-in yard, pet doors, or designated pet areas.
Consider the impact of your pet's presence: Finally, consider the impact of your pet's presence on the sale of your home. Some prospective buyers may be allergic or simply not comfortable around pets. Be mindful of this when preparing for showings and try to minimize the impact of your pet as much as possible. 
Selling a home with pets can be a bit more challenging, but with the right preparation, you can ensure that your furry friends don't get in the way of a successful sale. By following these tips, you can create a more inviting and stress-free environment for both your pets and potential buyers. Remember, the goal is to create a positive and welcoming atmosphere that appeals to a broad range of buyers, so they can see themselves living in the home.
Susan Moffat, REALTOR®  
519.377.5154
susan.moffat@c21.ca
Century 21 In-Studio Realty Brokerage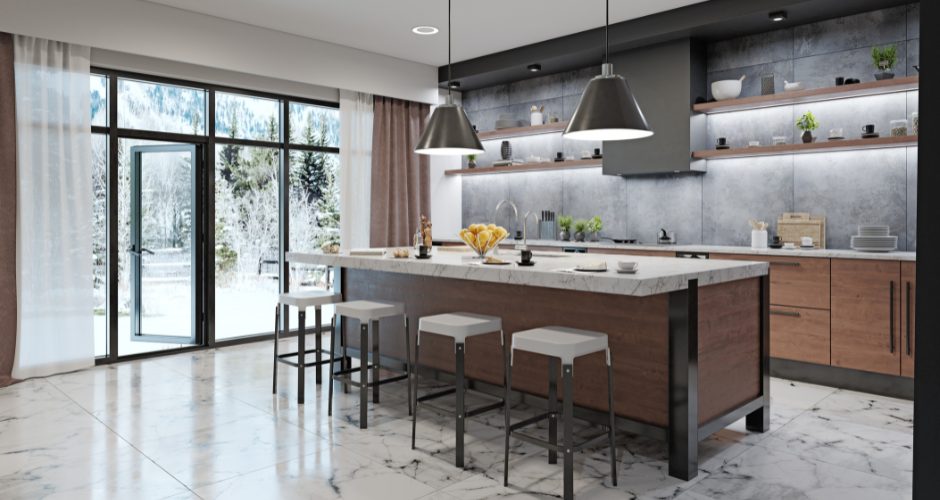 Remember the last time you were in a furniture store or other major home retailer? Remember the fully decorated displays of furniture, appliances and other products? Some of those may have even been organized as model rooms.
What did most of those displays have in common?
Chances are, they were well lit.
In fact, in the retail industry, there are professionals who specialize exclusively in display lighting. It plays such an important role in showcasing and selling home products successfully that the stores are willing to absorb the expense.
The same holds true for your home.
If you want to show your home well, and sell it quickly and for the best price, make sure every room is well lit.
There are probably some rooms in your home where the lighting is adequate, such as the kitchen and bathrooms, and perhaps the foyer. But there are other areas where the lighting may be mediocre. Take a close look at:
Closets

Storage areas

Bedrooms

Laundry rooms

Hallways

The garage
If there are areas in your home that are dark or shadowy, the solution may be as simple as installing higher wattage bulbs, provided your fixture can accommodate them. Keep in mind that brightness can vary significantly from one type of bulb to another. Your goal is to make the room feel bright yet comfortable on the eyes.
Also, don't forget to open drapes and blinds. Often the best and most pleasant source of light for a room is the sun shining through a window.
Want more tips on showing your home well? Call or email me today!
Susan Moffat, REALTOR®  
519.377.5154
susan.moffat@c21.ca
Century 21 In-Studio Realty Brokerage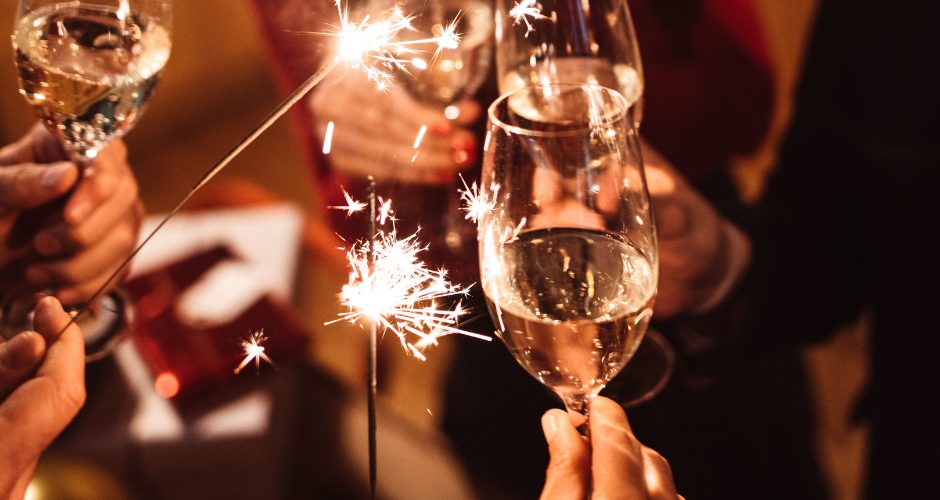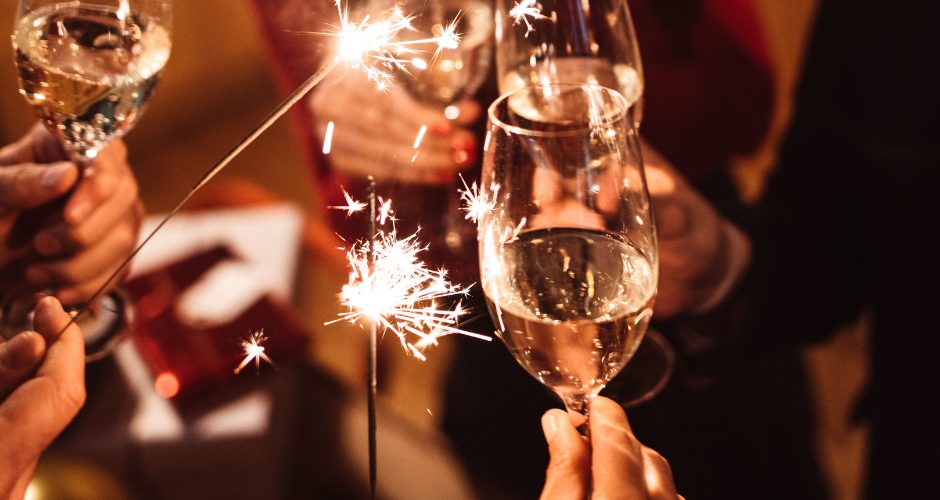 Happy New Year!!! I can't believe it is already 2023. The past year sure has flown by! 
My key thoughts on the market going into the new year here:
The purchase of income generating properties, such as rental and commercial investments with a 4 to 6% cap rate for the investor that would like to have a lower risk/ hands on approach to their investment 

Purchasing rural or agricultural land for the long term investor to keep a steady growth/ lower risk/ income generating investment for their portfolio

Selling farmland and rural properties for the seller ready to downsize and take advantage of strong farm prices, and decreasing purchase prices on more manageable properties to suit their lifestyle
Contact me anytime to discuss your properties value or to get updated with the latest listings of interest suited to your needs!
Have you made a resolution for the new year? If not, here are some ideas to inspire you and your family. 
Try a new recipe or food each week
Experimenting in the kitchen can be a lot of fun and I encourage you to switch up your family's usual rotation of reliable meals. I like to check out minimalistbaker.com or acozykitchen.com for inspiration and great recipes.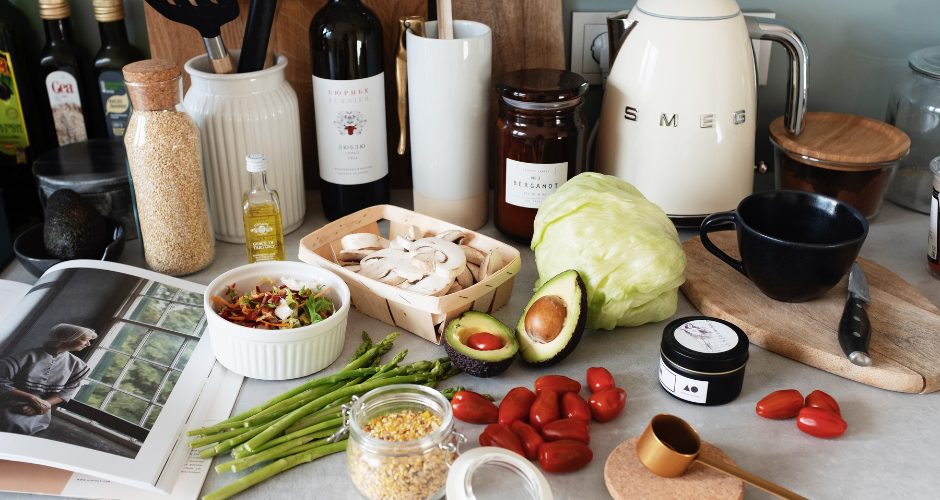 2. Read more
Whether it be reading the newspaper or a good old fashioned novel, most of us want to carve out more time to be immersed in a great story. If you are looking for a good recommendation, your local library is always a great resource for books (and more)!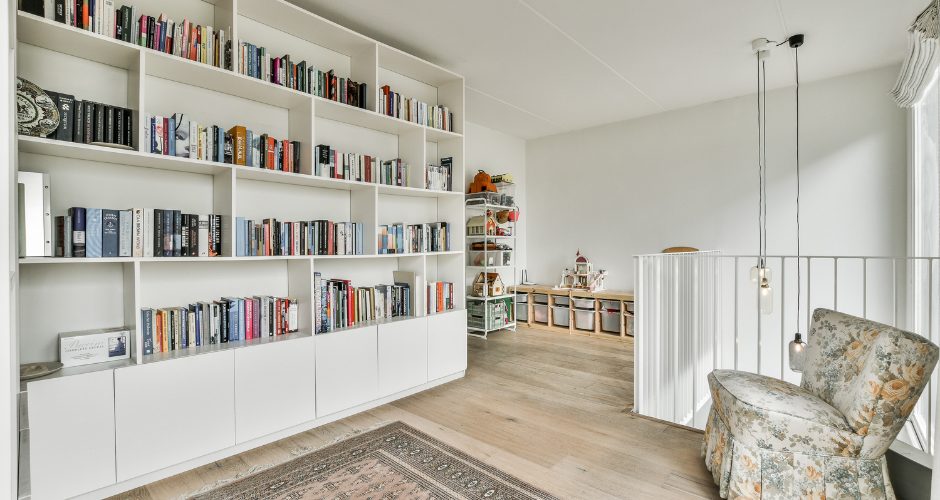 3. Learn or refine a new skill
Learning a new skill keeps your mind sharp. You could combine two resolutions and hone your cooking skills by making a complicated recipe you've been eyeing online. Your family could learn a new skill together – such as playing instruments to start a family band!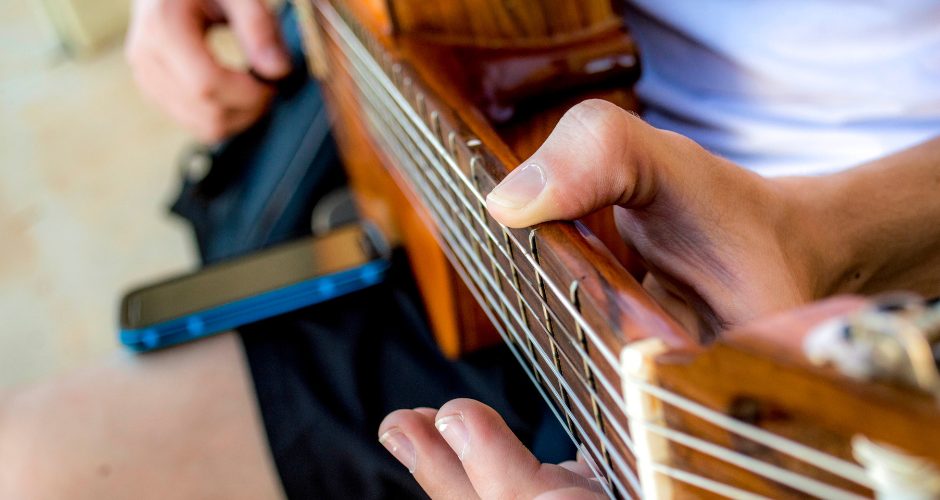 4. Plan an adventure
There is beauty in all corners of Grey Bruce. This is truly an amazing place to live and I am so grateful my job takes me around the area so I can experience it all. My Pinterest is a great resource for finding guides and lists of things to do in the area.
5. 
This resolution might look like performing one random act of kindness a week to brighten your neighbour's day. Or volunteer or donate to a cause that is important to you. If you want to be more politically involved, you can go to council meetings. Join a local club or attend community events like Grey Bruce Farmers Week January 4, 2023 to January 10, 2023. I will be there with Wayne Shier, Broker of Royal LePage RCR Realty. If you are interested but can't make it in person, you can attend virtually. Be sure to stop by and chat if you are attending!
If you're entertaining the idea of selling and finding your next dream home in 2023, I'm here to help. I can provide you with the market data and insights you need to make an informed decision. If you do decide to move, I can make that happen for you — smoothly and successfully.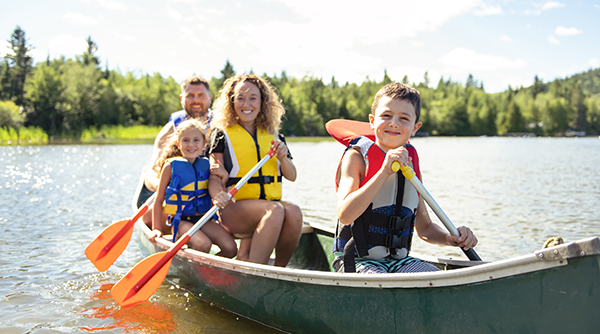 We like to think Grey and Bruce counties have some of the best outdoor activities in all of Ontario! We're especially proud of our paddling routes. Whether you canoe, kayak, or stand-up paddleboard, we've got a great route for you!
Rivers in Grey & Bruce Counties
The popular Saugeen River starts in Hanover, winds through Paisley, and stretches to Southampton and Denny's Dam. One of the best canoe routes in Southern Ontario, this 102-kilometre trip passes by wooded shorelines, through small towns and villages, and between breathtaking bluffs. Visit Explore The Bruce's
paddling tours page
for maps and more information on six segments of this river.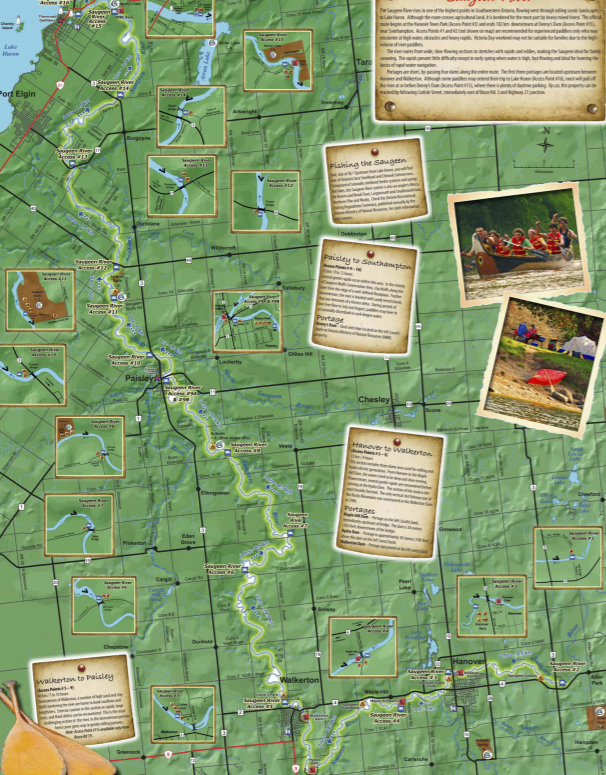 The gently flowing
Beaver River
is perfect for novice paddlers. Running from north of Kimberley to the village of Heathcote, this route features some of the most spectacular scenery in Southern Ontario, with panoramic views of the Niagara Escarpment and the surrounding countryside. Enjoy open areas and wooded stretches, wildlife viewing, and fishing. FYI: You may need to make short portages to bypass log jams.
If you are near Owen Sound, check out Sydenham River and Harrison Park. Canoe rentals are available at the park, and you can paddle south to the mill dam or north towards the bottom of beautiful Inglis Falls. 
Lake Huron 
On calm days, a paddle along the Lake Huron shoreline is a destination experience. 
For intermediate paddlers, a popular destination is
Chantry Island
, about 2 kilometres off the shore of Southampton. The island is home to a federal bird sanctuary, a lighthouse, and a restored lightkeeper's home (book a tour to visit the island). Foot traffic is permitted on the island if you are with a tour group. 
Near Oliphant, a great paddling route is among the Fishing Islands, a chain of islands stretching 20 kilometres north from Chief's Point to Pike Bay.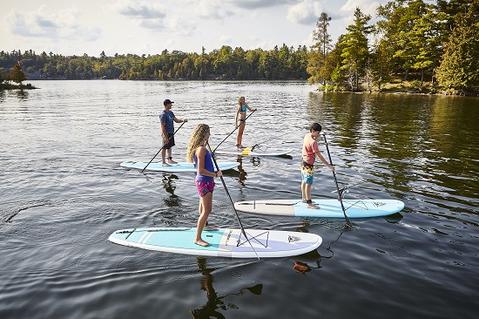 Georgian Bay
For the very experienced and adventurous paddler, a sea kayak is your best choice for exploring the clear waters and stunning views of Georgian Bay, "the sixth Great Lake." All the way from Tobermory to Owen Sound, Meaford, Thornbury, and further east, the shoreline has numerous bays and inlets to explore. 
In Tobermory, glide over shipwrecks in Little Tub and Big Tub harbours. 
Near Thornbury, paddle to the wreck of the Mary Ward, four kilometres from
Northwinds Beach
(parking fees apply). 
Much of the Georgian Bay route is shared with larger, motorized boats, so exercise caution.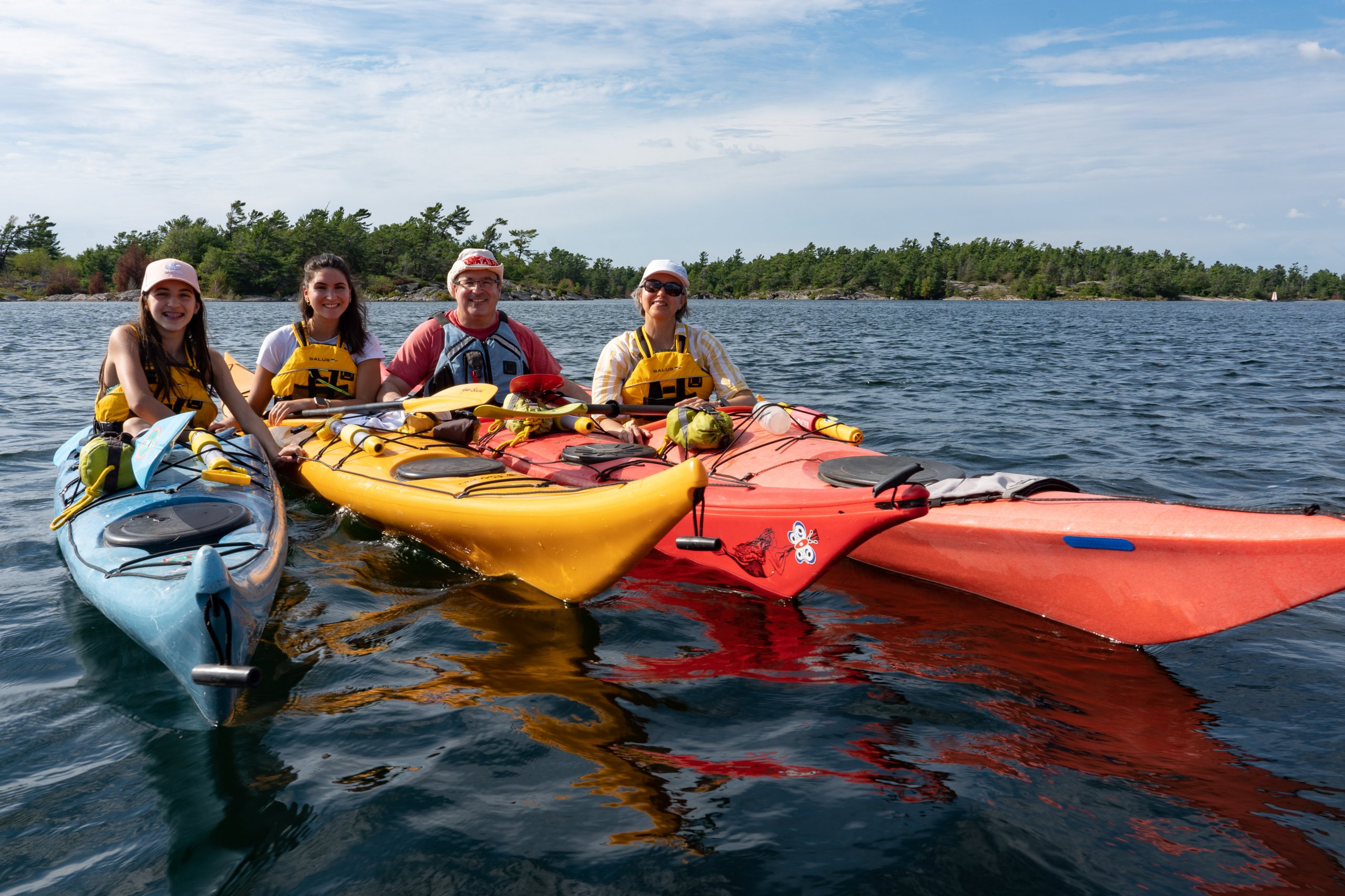 Bell's Lake
Bell's Lake
is a remote and beautiful property owned by Saugeen Conservation. There are no facilities or amenities on this property, but it is well known locally for its canoeing, calm waters, and peaceful surroundings.
Where can I find more information about paddling in Grey and Bruce counties?
Visit Grey County's
paddling
page, Explore The Bruce's
paddling tours
page, or Bruce Grey Simcoe's
Where to Paddle
page.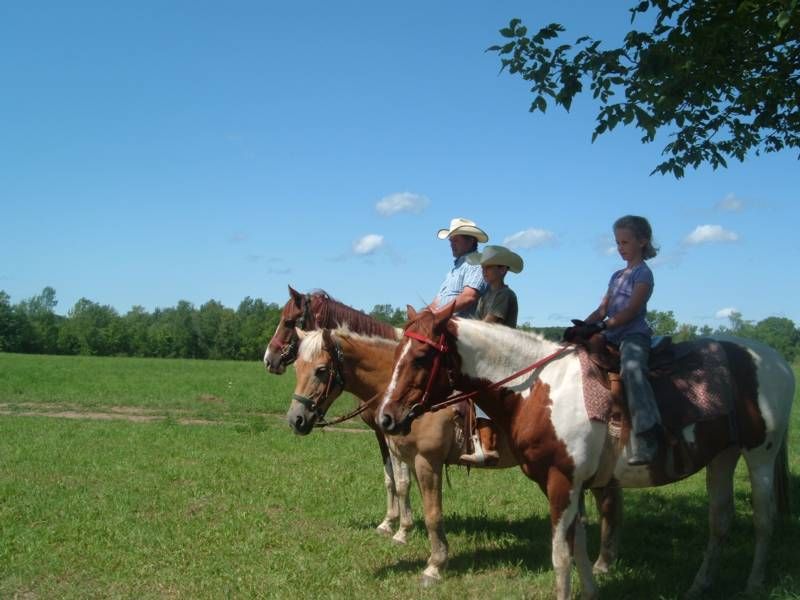 Grey and Bruce counties offer an abundance of outdoor recreation opportunities. Our region offers many trails for any kind of outdoor activity you can think of: everything from hiking and cross-country skiing to horseback riding and snowmobiling. 
Here are just a few of our favourites!
Horseback riding
Glendale Farms Riding Ranch
is located just outside Owen Sound in Benallen.
This small, unique riding ranch offers a riding program, more than 35 well-schooled horses and ponies, 2000 acres of groomed trails, two outdoor grass riding rings, and a newly built bright indoor Coverall riding ring. Glendale Farms caters to all levels of rider.
Hollow Hills Equestrian Centre
, located north of Hepworth, offers riding lessons, horse camps, equipment rental, a heated tack room, a laundry room, and a viewing room.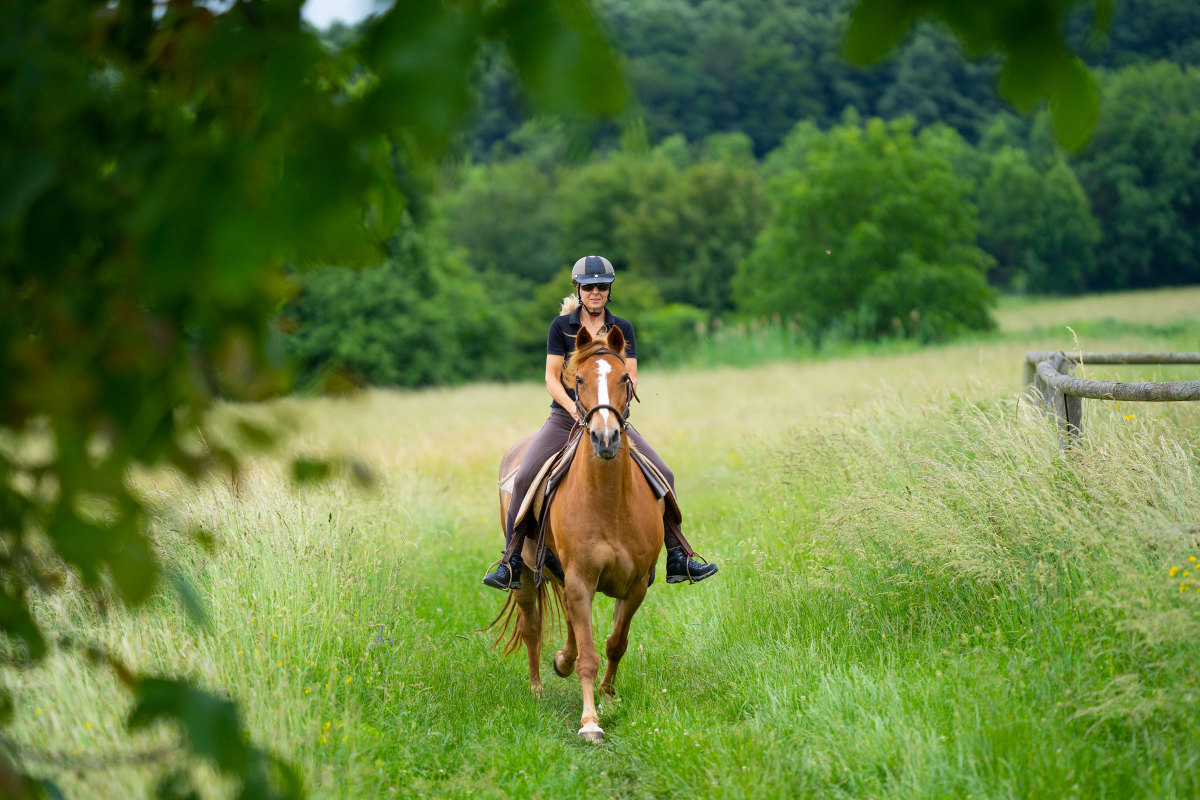 Windsong Ranch,
located southeast of Owen Sound on Grey Road 29,
welcomes horse enthusiasts of all ages. Riders can enjoy rolling hills and winding forest trails on your own horse or their experienced horses. They take groups of up to 10 people, and beginners are always welcome. They offer trail riding, horse leasing, basic and beginner's lessons for trail riding, driving lessons, English & Western coaching/lessons, boarding, transportation, and more. 
The Bridal Path Equestrian Centre
, just south of Wiarton, offers riding lessons and camps, equine exposure, schooling shows, indoor boarding, and horse training.
Hiking the Bruce Trail
The
Bruce Trail
is Canada's longest marked footpath, running 900 km along the Niagara Escarpment from Niagara Falls to Tobermory at the top of the Bruce Peninsula.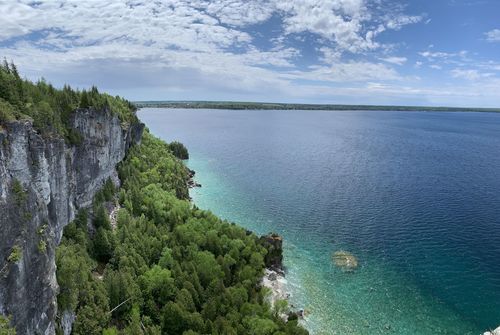 The trail passes through some of the larger towns in our region (Owen Sound, Wiarton, Lion's Head, and Tobermory) and takes hikers past many impressive waterfalls.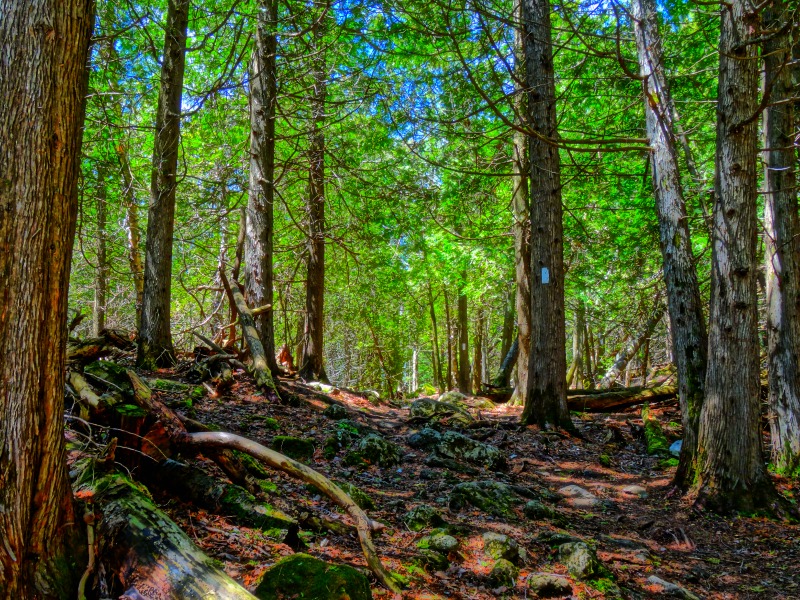 Just south of Owen Sound, Inglis Falls rises high above the Sydenham River and is a popular destination to start hiking on the many trails accessible from the parking lot right next to the falls.
Near Wiarton, Skinner's Bluff and the caves and trails at the
Bruce's Caves Conservation Area
are local gems.
Want more information?
The Bruce Trail Conservancy
offers both a print and digital version of Bruce Trail Reference Maps & Trail Guide.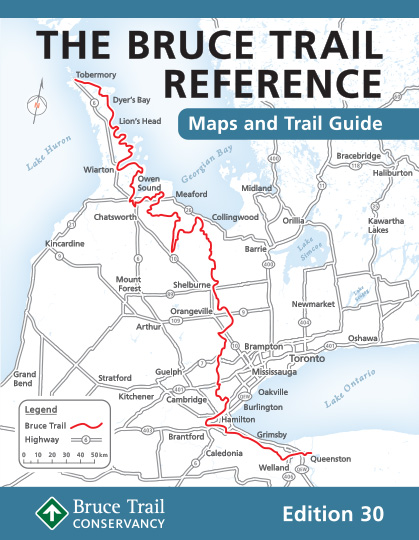 Mountain biking
Bruce County is proud to be home to some of the best
mountain biking trails
in Ontario. Get ready for great riding at their four locations: 
The
mountain bike adventure park
(Albermarle Tract) in Wiarton has approximately 20 km of trail with rock and technical riding. One special feature is the pump track, a continuous loop of packed dirt that can be ridden without pedalling using a series of rollers and berms, allowing riders to gain momentum and reach high speeds.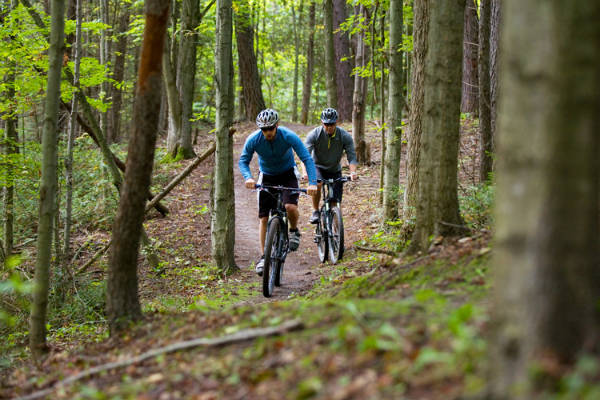 The
Brant Tract
in Paisley contains some spectacular single-track trails built using only hand tools. There is approximately 20 km of trail ranging from easy to difficult, and all trail intersections are marked.
The
Carrick Tract
in Mildmay is the best single-track in Bruce County. The soil and gravel-based trails provide great riding conditions that are dry almost all season long. 
The
Lindsay Tract
at Miller Lake is the largest of the County forests with more than 8,000 acres. This diverse property contains sensitive habitat for the black bear and Eastern Massasauga rattlesnake. Construction on the mountain bike trails began in May of 2008, and new trails continue to be built.
Where can I find more information about trails in Grey & Bruce?
TrailForks
lists trails for mountain biking, e-biking, hiking, trail running, horseback riding, observed time trials, ATV/ORV/OHVing, snowmobiling, snowshoeing, and skiing (downhill, backcountry, and nordic).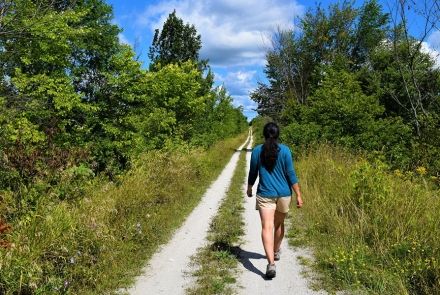 Bruce County
lists trails and routes for mountain biking, ATVing, hiking, canoeing/kayaking, horseback riding, winter, cycling, and community trails.
Grey Highlands
lists hiking trails on their
website.
Explore the Bruce
lists hiking, mountain biking, and caving trails in Bruce County.