Farming is a big part of Grey and Bruce counties. Are you thinking about buying a farm in our area? Here is some background and a few stats about the local agricultural industry to help you make your decision! Then, head over to the farm listings for our area by clicking this link.
What kind of farms are in Grey County?
With over two thousand farms and more than half a million farmed acres of land, Grey County is Ontario's number one producer for sheep, lambs, apples, and hay, and the number two producer of cattle. The county's farms also produce foods like dairy, hogs, chicken, honey, maple syrup, fruits and vegetables, organic produce, and also exotic foods like buffalo, emu, wild boar, and rare mushrooms.
Grey County's agriculture industry consists of a diverse collection of large and small farms. Between 2011 and 2016, the county added 56 new farms, increased the number of farmers under the age of 35 by 20%, saw gross farm earnings rise, and increased overall acres in production while protecting more vulnerable wetlands.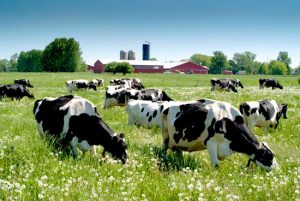 Grey County Farming Stats
2,304 farms in active production. Here are the types:
Cattle: 693 

Mixed: 384 

Dairy: 130 

Cash crop: 384 

Fruit: 60
Farm & Processor Selling Stats
Farmers selling to direct to consumers: 404 (highest in Ontario)

Farms selling farm shares: 19 (highest in Ontario)

Farmers selling at farmers markets: 65

Processors selling at farmers markets: 41
What kind of farms are in Bruce County?
With 3,750 farms that generate more than $255 million annually in gross sales, Bruce County is also an important agriculture centre for Ontario. Farm operations include beef, lamb, pork, corn, soybeans, string beans, canola, and winter wheat. Like in Grey County, exotic foods like elk, bison and emu are also raised, and there is wine production. Bruce County is also home to horse breeding and training. 
Farming in the county is augmented with a variety of support and processing industries, which allows the agriculture sector to contribute significant economic activity for Bruce County and overall farm production for Ontario.
Ready to look at farm listings for our area? Click this link!