Grey and Bruce counties offer an abundance of outdoor recreation opportunities. Our region offers many trails for any kind of outdoor activity you can think of: everything from hiking and cross-country skiing to horseback riding and snowmobiling. 
Here are just a few of our favourites!
Horseback riding
Glendale Farms Riding Ranch
is located just outside Owen Sound in Benallen.
This small, unique riding ranch offers a riding program, more than 35 well-schooled horses and ponies, 2000 acres of groomed trails, two outdoor grass riding rings, and a newly built bright indoor Coverall riding ring. Glendale Farms caters to all levels of rider.
Hollow Hills Equestrian Centre
, located north of Hepworth, offers riding lessons, horse camps, equipment rental, a heated tack room, a laundry room, and a viewing room.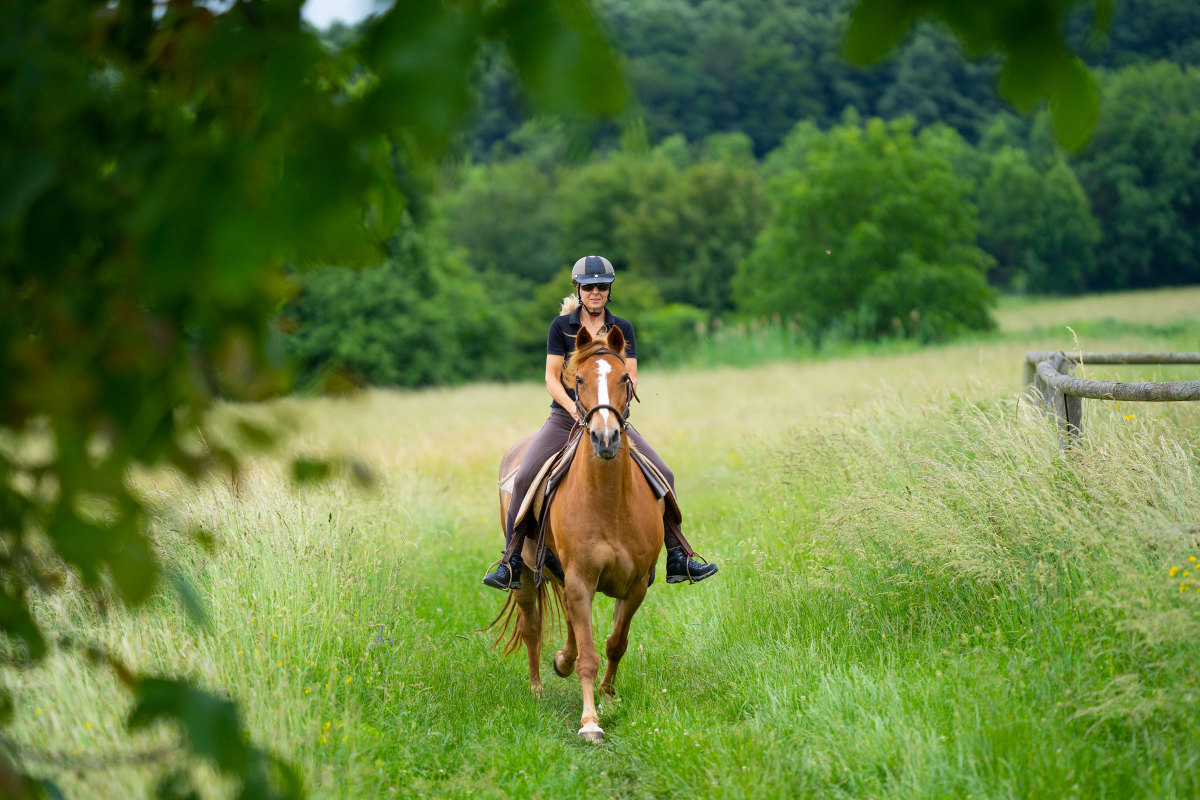 Windsong Ranch,
located southeast of Owen Sound on Grey Road 29,
welcomes horse enthusiasts of all ages. Riders can enjoy rolling hills and winding forest trails on your own horse or their experienced horses. They take groups of up to 10 people, and beginners are always welcome. They offer trail riding, horse leasing, basic and beginner's lessons for trail riding, driving lessons, English & Western coaching/lessons, boarding, transportation, and more. 
The Bridal Path Equestrian Centre
, just south of Wiarton, offers riding lessons and camps, equine exposure, schooling shows, indoor boarding, and horse training.
Hiking the Bruce Trail
The
Bruce Trail
is Canada's longest marked footpath, running 900 km along the Niagara Escarpment from Niagara Falls to Tobermory at the top of the Bruce Peninsula.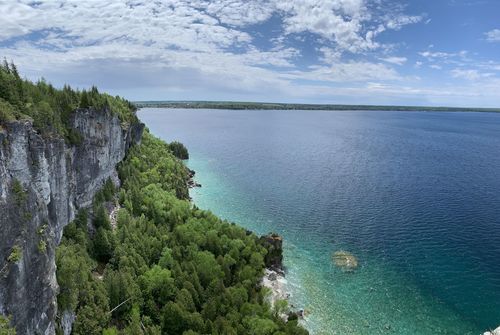 The trail passes through some of the larger towns in our region (Owen Sound, Wiarton, Lion's Head, and Tobermory) and takes hikers past many impressive waterfalls.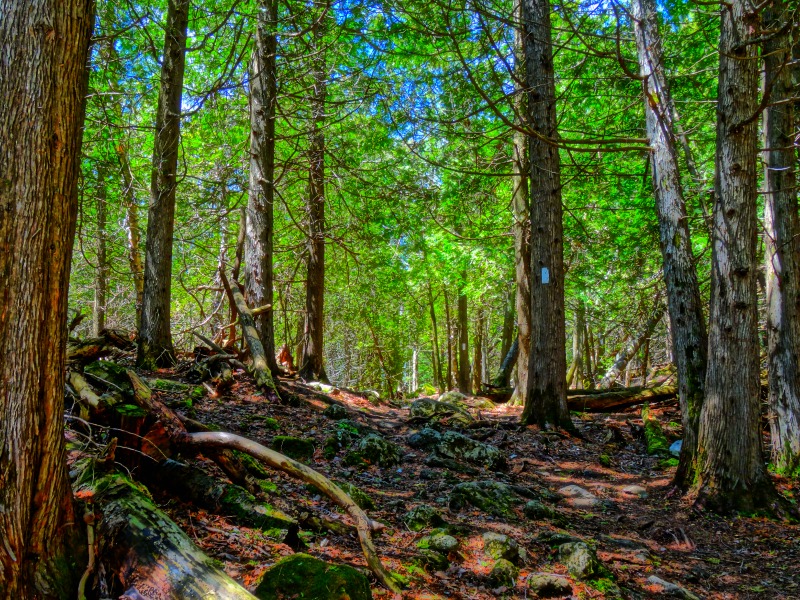 Just south of Owen Sound, Inglis Falls rises high above the Sydenham River and is a popular destination to start hiking on the many trails accessible from the parking lot right next to the falls.
Near Wiarton, Skinner's Bluff and the caves and trails at the
Bruce's Caves Conservation Area
are local gems.
Want more information?
The Bruce Trail Conservancy
offers both a print and digital version of Bruce Trail Reference Maps & Trail Guide.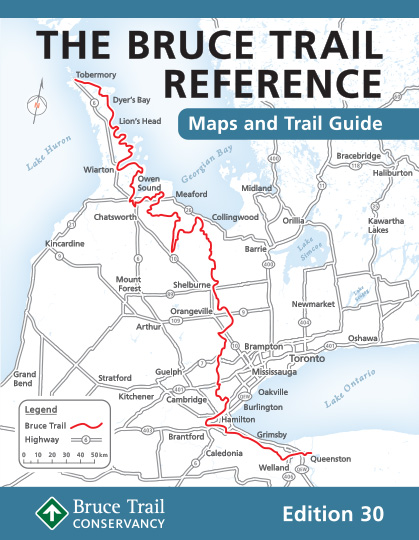 Mountain biking
Bruce County is proud to be home to some of the best
mountain biking trails
in Ontario. Get ready for great riding at their four locations: 
The
mountain bike adventure park
(Albermarle Tract) in Wiarton has approximately 20 km of trail with rock and technical riding. One special feature is the pump track, a continuous loop of packed dirt that can be ridden without pedalling using a series of rollers and berms, allowing riders to gain momentum and reach high speeds.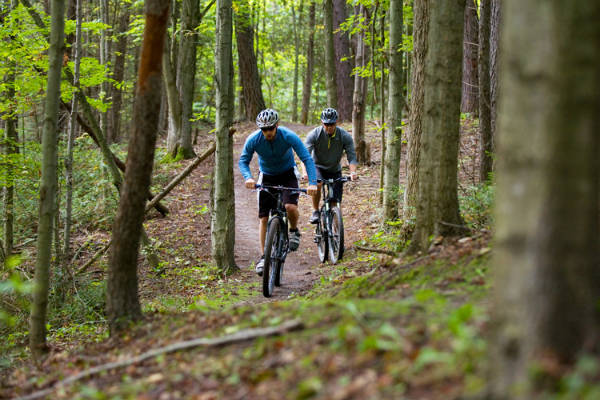 The
Brant Tract
in Paisley contains some spectacular single-track trails built using only hand tools. There is approximately 20 km of trail ranging from easy to difficult, and all trail intersections are marked.
The
Carrick Tract
in Mildmay is the best single-track in Bruce County. The soil and gravel-based trails provide great riding conditions that are dry almost all season long. 
The
Lindsay Tract
at Miller Lake is the largest of the County forests with more than 8,000 acres. This diverse property contains sensitive habitat for the black bear and Eastern Massasauga rattlesnake. Construction on the mountain bike trails began in May of 2008, and new trails continue to be built.
Where can I find more information about trails in Grey & Bruce?
TrailForks
lists trails for mountain biking, e-biking, hiking, trail running, horseback riding, observed time trials, ATV/ORV/OHVing, snowmobiling, snowshoeing, and skiing (downhill, backcountry, and nordic).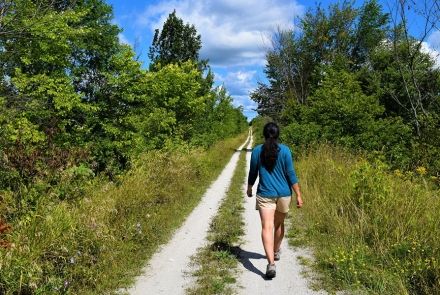 Bruce County
lists trails and routes for mountain biking, ATVing, hiking, canoeing/kayaking, horseback riding, winter, cycling, and community trails.
Grey Highlands
lists hiking trails on their
website.
Explore the Bruce
lists hiking, mountain biking, and caving trails in Bruce County.